Montenegro is Europe's best kept secret — a small country hiding glittering coastlines, historic walled towns topped with orange tile roofs, and some of the best hiking around. A semester here means discovering ancient Old Towns with a medieval past. It's all about hanging out on beaches pretty enough to rival any postcard. Spend your free time kayaking to hidden islands or on mountain hikes to views of the Adriatic Sea, all without leaving the country. Come see for yourself why the world wants to keep Montenegro as secret as possible.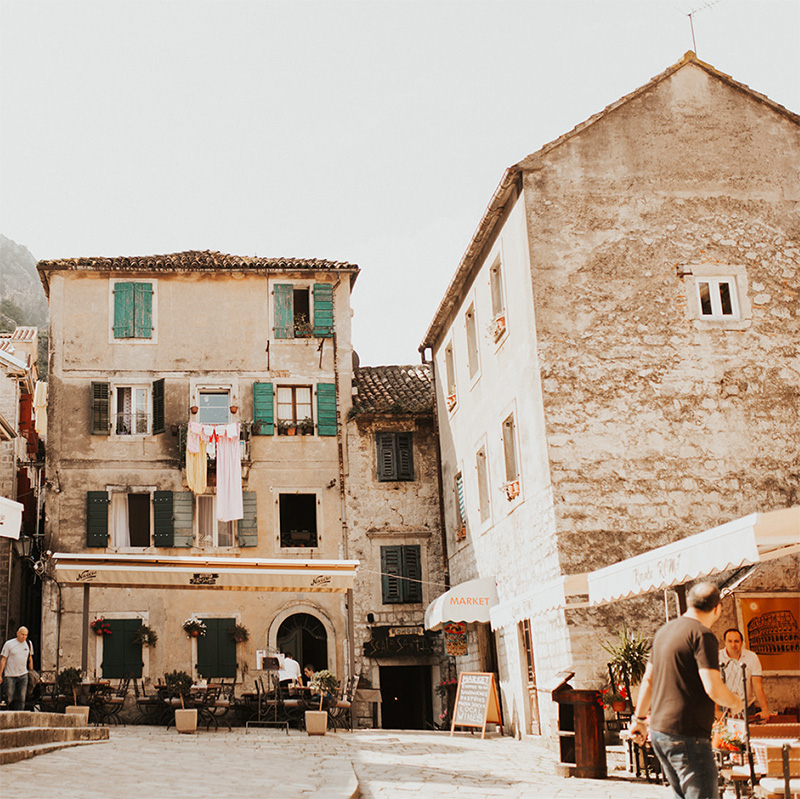 THE EXPERIENCE
Welcome to life in southern Europe! Tucked just south of Croatia and across the bay from Italy, we think you'll love it here. You'll be joining a small group of volunteers living in Montenegro, so be prepared for a tight knit semester.  Your group will be exploring, living, traveling, and teaching all together. Where you're living is a coastal getaway, a popular vacation spot for lots of countries in Eastern Europe. Volunteers will soak up the sun with all the tourists that flood to Budva during the summer months, then enjoy a quiet city that shuts down to be "locals only" for the majority of the year.  We know you're ready to fall in love with what Montenegro has to offer so here's a glimpse at what life is like in your city …

Glimpse a day in Montenegro
Wake up in your apartment, shared with your ILP group. It's right in the heart of Budva which means you're close enough to walk just about everywhere you need to go, like your school and some of your favorite parts of the city. The apartment is also a slice of history. It's an older apartment built in the Communist-Block style, a nod to Montenegro's past. Your whole group shares the small apartment, so you guys get really close (and learn to laugh at the little quirks that come with living in an apartment that's been around for a while!). You all wake up and head down to the school all together, just in time for breakfast.
The entire semester in Montenegro is all about a local experience, including the food. In Montenegro, where you're teaching and living gives you a close look at the country's melting-pot culture. Volunteers here are teaching at a private Russian school (we'll give you more on that later) and will be eating the majority of your meals at the school's cafeteria, provided by your Macedonian cook. Be ready for classic Eastern European breakfasts full of porridges with jam. Lunches and dinners are focused on soups, along with lots of meat, bread, and potatoes. For dinner, you'll typically receive a small stipend so that you can cook in your apartment. There are nearby grocery stores where you can grab ingredients for the meals your group makes together. 
You'll be able to see this combination of cultures everywhere. Montenegrins speaks lots of different languages with locals who have roots from all over Europe. Montenegrin is the official language, but you'll have the chance to take some Russian language classes during your semester. 
Since you're only teaching part time, you'll have lots of free time during your semester, maybe more than you anticipated. That leaves time for you to go explore your city with your ILP group or play some games with fellow volunteers. And of course, time to plan your upcoming trips and travels! Your city and country are very well connected to some undiscovered countries that may not be on your bucket list (yet). Hop on a bus to explore the fairytale bridge in Bosnia or get a cheap flight to Serbia. Take a weekend trip to Croatia. Or, head east to experience the forests and mountains in Montenegro. You're welcome to vacation in Western Europe, but some countries are more expensive to reach from Montenegro. For those willing to be flexible with their vacation plans, you can find some great deals to countries you didn't know you would love so much.
HELP CHILDREN IN EUROPE LEARN ENGLISH
In this Exchange Program, you'll be making a difference by helping children learn English, up to 20 hours per week. No experience is needed, we provide training on our teaching method! Volunteers will be at a private Russian school that has very high standards for their teachers and their students. It's a prestigious program with parents who are looking to provide the best English education available: classes taught by a native speaker (that's you!). Your service of teaching here comes with high expectations.
Volunteering and Costs
$2,520 — Includes your roundtrip airfare to Montenegro, visa, housing, meals, language and culture experiences, as well as training and support throughout the entire experience.
Montenegro is one of our Exchange Programs which is the most budget friendly option while still giving you all the perks of a classic ILP experience. We're able to keep your costs so low because your students' family helps subsidize the program for you by paying a fee to have their child attend ILP classes.
This school has classes for students in kindergarten, all the way up to the high school level. ILP volunteers will be working with kids who are around 4 through about 10 years old. The younger kids are darling, but teaching young kids always comes with some challenges. If you've ever been around younger kids, you know exactly what this is like: they have so much energy with short attention spans, which makes classes a challengingly fun adventure. Good luck getting these kiddos to pose for a picture (and even more luck having them sit still during your lessons!).
You'll also have about an hour per week where you get to work with some of the high school kids through a cultural exchange. The kids here are such a big part of your experience, and teaching is almost always the most impactful aspect of your ILP semester. 
WHERE
A small city along the coast, Budva
WHEN
—Spring: Depart early to mid January – return end of April
—Fall: Depart middle to the end of August — return middle of December, just in time for Christmas
WHO
—4 volunteers in a group
—Single females
—18-about 25ish years old
—US and Canadian volunteers
—No experience needed!
EXPLORING EUROPE 
Spend your weekends at both the popular and hidden gem spots in Montenegro! Choose from the hundreds of beaches along the coast, or head inland to go swimming at the lake-filled national parks, raft the Tara River, and do so much more. Because this country is so small, just about every destination you want to go see is just a few hours away or less.
Not only do you get to travel to our favorite destinations within Montenegro, but you can also travel throughout the European Union and other approved countries. See how many countries you can knock off of your bucket list this semester (jump on a 1.5 hour flight to Spain and Greece!), but we highly recommend being adventurous and discovering some of our favorite hidden gems in nearby Croatia, Bosnia and Herzegovina, Serbia, Bulgaria, and more.
Here are just a few of our favorite European spots you could choose to vacation in …
Croatia — Kayak to islands along the coast or hike to stunning viewpoints. This country is full of classic red-orange roofs set against the sea green Adriatic horizon. Dubrovnik is considered to be one of the most beautiful cities in Europe (we agree!) and is just a $20 bus ride away from where ILP volunteers live in Montenegro. It's the perfect weekend trip.
Greece — Snag a direct flight and be in Athens in just a couple of hours! Then, island hop to photograph those iconic white homes along the winding, cobblestone paths. The islands of Greece are hard not to love.
Italy — Just hop across the bay and you'll find yourself in Italy, having gelato and wandering those oh so famous cities! Good luck choosing between favorites like Rome, Naples, Venice, Milan, and Florence.
Bosnia and Herzegovina — Go swimming at the stunning Kravica waterfalls before heading to Mostar. It's home to one of the cutest European towns you didn't know you needed to see. The famous bridge and fairytale-esque village found here is prettier than any postcard.
Ukraine — Head south to the Black Sea coastal towns like Odessa and Yalta. Spend time lounging on sandy beaches, enjoying boardwalk cafes and maybe do some dolphin spotting. You can even visit Pinterest-made-popular spots like the "Tunnel of Love" in this country.
Czech Republic — Wake up early (before other tourists) to stroll up to Prague Castle. Then, walk along famous Charles Bridge and test out a few of Prague's tastiest treats. We think you'll love a certain ice cream filled pastry.
North Macedonia — Start your adventure in the capital, Skopje. Shop for handicrafts at the market and take a cable car up for a view of the city. After the capital, head to Ohrid which is a lakeside city you'll fall in love with. Find two of the country's most iconic churches looming over the glittering lake, then dive into the water for an afternoon of kayaking or paddle boarding.
Hungary — Spend the weekend in Budapest! It's all about relaxing in famous thermal spas and walking around castle hill. Before leaving, explore the stone gray walls of the Fisherman's Bastion.
Slovakia — Have lunch on the streets of Old Town Bratislava. Come climb up to Mongol castle ruins. Tuck into beyond delicious Slovakian food. This country is an undiscovered gem, that's for sure.
Poland — Head south for hikes through the mountains to swimmable lakes. Stroll through a lively Old Town full of drool-worthy treats. Step back in time at numerous world famous WWII history sites. Poland's a volunteer favorite.
Spain — You can actually take a direct flight from Montenegro to Barcelona making this an ideal vacation … Especially when you find a killer flight deal for $40! No brainer right? I have a feeling I only need to mention the word "churros" and you'll be booking your flight.
Slovenia — Boating across the lake to medieval Bled castle? Explore sprawling castle ruins? Train through an underground cave network? Get all that in Slovenia.
Switzerland — Hike or take in views of the Swiss Alps by train, then paddle board on Lake Geneva. After all that, get your fill of chocolate.
France — Fulfill your childhood dreams by having a picnic in front of the Eiffel tower. Then spend an afternoon in the Louvre before leaving to soak up the sun on the coast.