Live with the Himalayan mountains in your backyard! We love all the bucket list adventures that come to mind when you first think of India, but this country is way more than the Taj Mahal. We can't wait for you to experience the corners of this country that most tourists don't get to see. Come explore the sand dune deserts, relax on beachy getaways, and soak in the sites of picturesque mountain towns.
Volunteers get to experience all there is to do here, but also get to help with one of India's biggest needs: education. A semester in this country means providing an English education to children (some who wouldn't be able to afford one). It's a huge service to a growing population.
THE EXPERIENCE
Call the "Switzerland of India" all yours during your semester here! Your new home is tucked up in the northern part of India, nestled between the towering Himalayan mountains, with Nepal as your neighbor to the east. Just outside of where you're living are some of the top travel destinations in the country for outdoor adventures. On the weekends and days off from teaching, you're close enough to hike in the Himalayas, visit charming mountain towns, go white water rafting, go skiing (in the winter months), try out zip lining, and more. 
India is a huge country bursting with bucket list adventures and cities to visit, but living here gives you the opportunity to soak up life in rural, northern India. It's a local experience where you can juggle the high adventure of trekking to alpine lakes, but also take an evening to visit the local market or experience a local festival. This country is a big melting pot of religions, languages, and beliefs which will have a major impact on your semester in India.

+ Glimpse a day in India
Come share a dorm room with a couple of your fellow ILP volunteers, with everyone in your group just a few doors over. Groups in our India program are anywhere from 7-10 volunteers, which gives you lots of travel buddies to experience the big adventures with (and the day-to-day ones). Housing in our India program is on-campus, giving you another chance to glimpse daily life outside of your teaching hours. Your group all lives together in the same dorm area, so you'll be constantly hanging out all together — be prepared to get very close to the adventurers in your group!
After a classic Indian breakfast of fried scones, tea, and this sweet rice pudding, it's time for school. You live right on campus for one of the schools you teach at (the other is a short ride away) but you'll still want comfortable walking shoes! Your new mountain home is known for amazing views, and hilly streets. Plus, you'll probably do loads of walking on vacation. After teaching in the morning, you'll pick up a lunch that's packed for you before heading to your next school. Your entire semester in India is about experiencing life like the locals, which includes the food. Your group will share meals that are full of local favorites, all on rotation. Be prepared for fragrant curries served with rice and warm naan bread, along with yogurt sauces to help calm some of the spicier dishes. Culturally, many people in this part of India keep vegetarian, and several of your prepared meals will be veggie (but there will be some meals which include meat, as well). Rice, flatbreads, and protein-rich staples like lentils, chickpeas, potatoes, and beans are typically found in most meals. All of your meals are provided by a sweet cook who might be willing to share the secrets of cooking authentic Indian food with you (which would make for quite the souvenir to take home)!
You'll see all sorts of weather in your hometown, and throughout the country … plan on packing for all seasons! Your town does see snow in the winter months (it's a top-tier ski destination), with a wet spring and fall, and cool mountain summers. You will want to pack layers, along with clothes that can handle the hot and tropical destinations within India that may be on your vacation list.
Since teaching English is only a portion of your day, you're set up with quite a bit of free time … maybe more than you are used to. That means time for exploring the sites and temples within your own town, exploring the getaways nearby, trekking up to admire mountain meadows, or tackling an adrenaline-filled adventure, like rafting. You'll also have plenty of time to play games with your group, discover a new little market,  or try a new snack in your town.
On vacations, you get to travel all throughout the country to experience what India is so well-known for. Hello, Taj Mahal! But we think you'll equally love experiencing all the things that you may not know India was hiding — maybe go glamping in the desert (your camel will get you there for a night under the stars), then see the Blue City for yourself, before checking out the Pink City … and the Yellow City! Or, head down south for postcard beaches, jungle safaris, and snorkeling.
Vacations are also ideal for exploring new countries, right? We have the feeling Nepal is at the top of your list!
HELP KIDS IN INDIA LEARN ENGLISH
India is our first Hybrid Program! You may be familiar with ILP's two Programs, Exchange and Humanitarian.
Exchange Programs are built to be exactly like the name … a true exchange. You teach English classes and there is a fee for the students to attend, which is in turn used to help subsidize your costs (making your ILP program fee a bit lower).
Humanitarian Programs are similar in that you're teaching the same types of classes, but here, your service is going to help children who come from very little means and would not otherwise be able to afford to attend. You're teaching in areas that struggle with poverty and your class is a free gift to that community!
That brings us to India — and our very first Hybrid Program! Volunteers here may be teaching at a public school, with students who come from limited means, as well as a private school, with students who are a bit more affluent. Volunteers may also be teaching at all government public schools, where some costs are subsidized. This type of program helps us bring the cost of your program fee down, making it even more affordable for you while also being able to help more children.
No experience is needed, we provide training on our teaching method. Teaching is a huge part of your experience here. ILP volunteers should be prepared for a rewarding semester, with some kiddos along the way that can make some teaching days difficult (you know how kids are!). They're young, energetic, and eager to learn, but those same pluses can sometimes make for harder teaching days. While teaching is often the hardest part of your semester, it's also the highlight. Plan on teaching up to 20 hours a week. 
+ Volunteering and Costs
$3,970 — Includes your roundtrip international airfare to India from the US, airport pick up + drop off, visa, housing, at-home meals (breakfast, lunch, and dinner), WiFi, Pre-Departure + In-Country Training, and support throughout the entire experience, as well as language and cultural experiences. 
In general, students are eager to chat with their friends, or want to run around instead of sitting in their chairs during your English classes. Some of the kids you are teaching come from difficult backgrounds, but are all so easy to love!
There's a lot waiting for you in this country. Culturally, things in India are rather religious. You may start class with a neutral prayer to a handful of different deities, and will likely meet someone who practices one of the main religious in the country: Hinduism, Islam, Buddhism, Christianity, Sikhism, and Jainism. There are also some cultural nuances to navigate that aren't found in our other countries. Among those is a strict adherence to conservative dress (for locals and for our volunteers). If you're ready for a semester of expecting the unexpected, India's the spot for you!
WHERE
Call the mountain town of Kullu home, found in the Himachal Pradesh Province in northern India
WHEN
—Spring: Depart mid January/mid February – return mid April/mid May
—Summer: Depart early/late May – return early/late August
—Fall: Depart mid August/late September – return early/mid December, just in time for Christmas, just in time for Christmas
WHO
—7-10 volunteers in a group
—Single males/females and married couples
—18-about 25ish years old
—US volunteers
—No experience needed!
A QUICK NOTE ABOUT COVID-19
In general, life is operating with some restrictions, such as mask mandates, social distancing, and proof of vaccination to participate in some events or visit some locations, like certain shopping malls. Policies are sometimes different from city to city, and from province to province. There are also some random testing requirements upon arrival (for those who are selected and test positive, a mandatory quarantine at home is required). Volunteers going to India must have their Covid-19 vaccine.
We are so happy to have volunteers in this location!
EXPLORING INDIA
This country is vast and packs in a completely new adventure at every corner! Of course you'll get to visit the stunning Taj Mahal (an actual World Wonder!), but just know that there are so many more things to see and do during your semester. You'll be living in the mountainous north where you're in good company with the Himalayan mountains and the Dalai Lama. Then, come see some of the most important pilgrimage sites and temples, before heading south chase dolphins and enjoy the surf and beachy coastline. You'll get your fill of palaces and ancient forts, but don't skip out on jungle safaris, houseboat river cruises, and more! See why we can't wait for you to explore what India has to offer?
With so much to see and do in India, it's a hard choice deciding what makes your vacation list during your ILP semester … but don't forget about your neighbor! You're living so close to Nepal, we have a feeling you won't be able to pass up the chance to visit!
Agra — This city is on every world traveler's bucket list because of the iconic World Wonder: the Taj Mahal! But after spending the morning there, don't leave without seeing the other can't miss sites, like the Tomb of I'timād-ud-Daulah, the Agra Fort, and the maze of shopping bazaars.
Jaipur — Can you really pass up the chance to explore somewhere called the "Pink City?" Many of the palaces and buildings in Jaipur are painted pink, creating one of the most photogenic cities in India. Get ready to take a zillion pictures of the colors and patterns at the Patrika Gate and the Hawa Mahal. Then, spot playful monkeys scurrying around the Amber Palace before soaking in the views of the lake-bound Jal Mahal Palace at sunset.
Mcleod Ganj — Swimming in waterfalls, viewpoints of the stunning mountain range, sacred temples, prayer wheels, and strings of Tibetan flags … welcome to Mcleod Gang. This corner of India is so peaceful and is home to someone you might have heard of — the Dalai Lama! 
Shimla — Nestled in the foothills of northern India, this mountainside town is filled with colonial charm, surrounded by dense forests and quite the view. Fill your time in Shimla by riding in toy trains, shopping at the Lake Bazaar, hiking to Chadwick Falls, and exploring the Victorian Square. It's a weekend adventure you may want to visit twice! 
Amritsar — There are literal millions of temples and palaces in India, but nothing is quite like the Golden Temple in Amritsar. This stunning temple is the holiest site for the Sikh religion, where worshippers and visitors alike can volunteer to help provide a free meal to hundreds of people. Most of the ingredients are donated, and volunteers dedicate time to chop vegetables, stir curries, steep chai, and roll out naan bread. Looking for another unique experience during your trip here? In the evening, you can watch the border ceremony. Every night, there's quite a military performance as Indian and Pakistani soldiers close the international gate between the two countries. 
Jodhpur — Found on the edge of the Thar desert (come camel trekking for a night under the stars!), we think the "Blue City" of Jodhpur is going to be at the top of your wish list when you see the pictures! Many of the apartments in this city are painted various shades of blue which creates quite the effect. Just don't leave without experiencing Jodhpur's other highlight, the towering Mehrangarh Fort. It's the largest fort in all of Rajasthan. 
Himalayan National Park — You're lucky enough to live just down the road from this impressive national park! Visit for the day and soak in the views of the snow-capped mountains on a half-day hike, or go on a 2-3 day trek with a guide, who can help you navigate the trails to see waterfalls, picturesque meadows, and maybe even spot a few animals who call this part of India home. 
Andaman + Nicobar Islands — Head east and you'll find an archipelago of Indian islands not far from Thailand … and yep, they're the paradise you're picturing! Go island hopping, spend a morning snorkeling, explore limestone caves, kayak through the mangroves, then block out plenty of time for an afternoon on white sand beaches with turquoise water.
Pondicherry — What used to be the largest French colony in India is now a coastal destination city, filled with palm trees that frame towering basilicas, charming neighborhoods, and brightly painted buildings. Don't miss the seafront walkway, striped lighthouse, the botanical garden, and spending some time on Paradise Beach (you'll love the warm, golden sands here in this hot and humid city). Break up some beach time by hiking to the massive Ginjee fort, then take an evening walk around the French Quarter, after it's cooled down.
Varanasi — Varanasi is one of the oldest cities in the world, found on the sacred river Ganges. For many Hindus, it's believed that dying in this city will bring salvation and nirvana — it's also very common to see thousands and thousands of worshippers bathe in the holy waters of this river. Boat rides along the Ganges, yoga classes, and making offerings at the smattering of temples are also common in this sacred city.
Thar Desert — Spend a night in this expanse sea of sand, amid sand dunes and a blanket of stars at night! Travel by camel to a glamping campsite, complete with dinner and tea as you watch sunset, then settle in for a night of stargazing. Wake up to the bright orange colors of sunrise before traveling back by camel. Talk about an adventure of a lifetime.
Gokarna — Spot colorful villages, coconut trees galore, and more in this very pretty coastal paradise. Gokarna is a popular beach destination for tourists (and a popular pilgrimage site). Plan on visiting the Mahabaleshwara Temple and Mirjan Fort between your time on Kudle Beach, Paradise Beach, Om Beach, Honey Beach, and Half-Moon Beach. 
Kerala — Kerala is a dream destination, thanks to dozens of waterfalls, lush jungles, miles and miles of beaches, and unique adventures (like taking a cruise on a houseboat through Kerala's famous rivers). Come canoeing, take a catamaran ride, go snorkeling, try surfing,  go on a jungle safari, and more — we think the state of Kerala is going to be a very popular vacay spot. 
Nepal — There is plenty to keep you busy in India, but we know you can't resist visiting another nearby country! Nepal is found just east of your new home, so snag your passport to visit cities like Kathmandu, Pokhara, and Bhaktapur.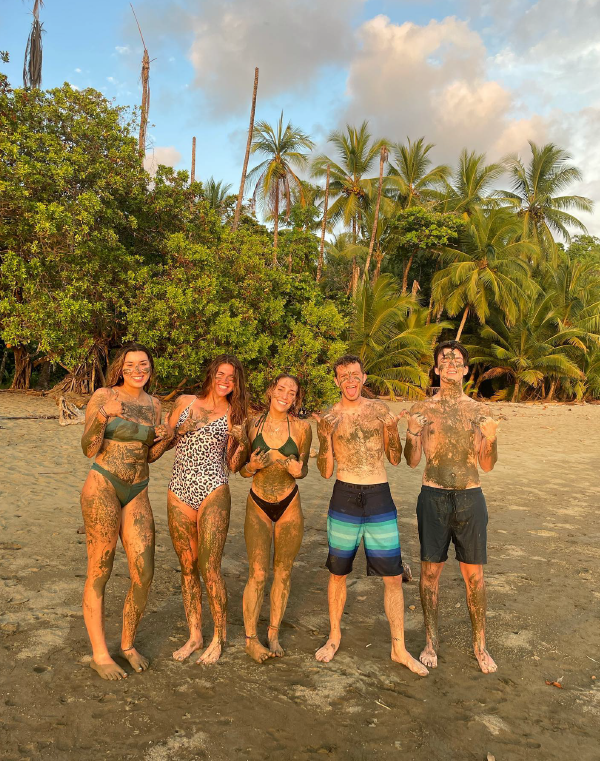 India was everything I hoped it would be, but also so, so much more.
"One of my favorite parts of traveling is when it feels like I just stepped into another world … when everywhere I turn there's something I want to capture on my camera so that I won't forget it. India was exactly like that. I want to remember everything from the culture and the friendly people I met, to the food (oh man, the food!), to the intricate designs on the sacred buildings. I even have about 20 photos of doorways on my camera roll because everything is just that beautiful."
— Jen