Montenegro is Europe's best kept secret — a small country hiding glittering coastlines, historic walled towns topped with orange tile roofs, and some of the best hiking around. A semester here means discovering ancient Old Towns with a medieval past and hanging out on beaches pretty enough to rival any postcard with a Mediterranean feel. Spend your free time kayaking to hidden islands or on mountain hikes to views of the Adriatic Sea and historic monasteries, all without leaving the country. Come see for yourself why the world wants to keep Montenegro as secret as possible.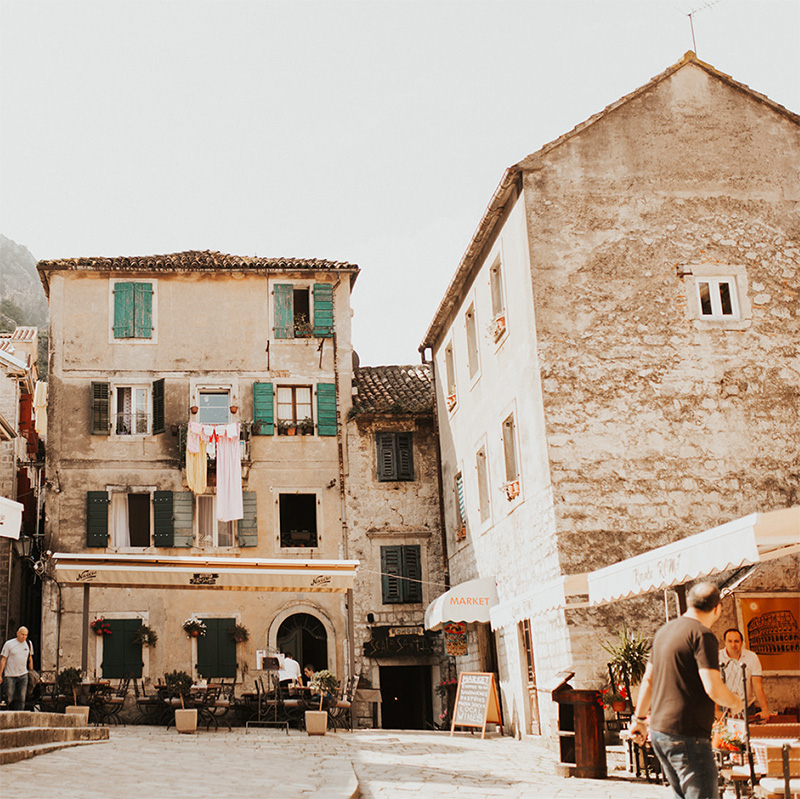 EXPLORING EUROPE —
Spend your weekends at both the popular and hidden gem spots in Montenegro! Choose from the hundreds of beaches along the coast, or head inland to go swimming at the lake-filled national parks, raft the Tara River, and do so much more. Because this country is so small, just about every destination you want to go see is just a few hours away or less.
Not only do you get to travel to our favorite destinations within Montenegro, but you can also travel throughout the European Union and other approved countries. See how many countries you can knock off of your bucket list this semester (jump on a 1.5 hour flight to Spain and Greece!), but we highly recommend being adventurous and discovering some of our favorite hidden gems in nearby Croatia, Bosnia and Herzegovina, Serbia, Macedonia, and more.
Here are just a few of our favorite European spots you could choose to vacation in …
Croatia — Kayak to islands along the coast or hike to stunning viewpoints  full of classic red-orange roofs set against the sea green Adriatic horizon. Dubrovnik is considered to be one of the most beautiful cities in Europe (we agree!) and is just a $20 bus ride away from where ILP volunteers live in Montenegro making for a perfect weekend trip. Keep heading north though and you'll find other favorites along the Dalmation coast like Split and swimmable waterfalls at Krka National Park.
Greece — Snag a direct flight and be in Athens in just a couple of hours! Then, island hop to get those viewpoints of the iconic white homes along the winding, cobblestone paths that you've been dreaming of. The islands of Greece are hard not to love.
Italy — Just across the bay you'll find yourself in Italy, having gelato and wandering those oh so famous cities! Good luck choosing between favorites like Rome, Naples, Venice, Milan, and Florence.
Bosnia and Herzegovina — Go swimming at the stunning Kravica waterfalls before heading to Mostar to discover one of the cutest European towns you didn't know you needed on your bucketlist. Oh and bring your camera: the famous bridge and fairytale-esque village found here is prettier than any postcard.
Serbia — You'll find no shortage of impressive and unique architecture here from ancient monasteries to towering churches, plus crumbling fortresses. We recommend checking out the capital, Belgrade to see all this and more, or heading to quiet mountain villages hiding in the rolling green hills.
Albania — Your neighbor to the south is hiding some ahhhh-mazing shopping! Come check out all the beautifully designed Albanian rugs that will also give you definite Turkish vibes, plus there's also incredible beaches all along the coast that rival any other favorite beach in Europe. We recommend jumping on a bus and heading to Tirana, said to be one of the most colorfully painted capitals in Europe.
Ukraine — See castle-like fortresses and green stretches of land in Kamyanets-Podilsky, head south to the Black Sea coastal towns like Odessa and Yalta for lounging on sandy beaches, boardwalk cafes and maybe even some dolphin spotting. You can even visit Pinterest-made-popular spots like the "Tunnel of Love".
Czech Republic — Wake up early, before other tourists, to stroll up to Prague Castle, walk along famous Charles Bridge, and shop in this capital city.
North Macedonia — Start your adventure in the capital, Skopje, where you can shop handicrafts at the market and take a cable car to get a view of the city. But our top pick is going to be heading out to Ohrid where you'll find two of the country's most iconic churches towering over the lake … oh and jump on a kayak or a paddleboard to finish out your day at the lake!
Hungary — Spend the weekend in Budapest, relaxing in famous thermal spas, walk around castle hill, and take a short cruise for sites of both Buda and Pest. Don't forget to explore the stone gray walls of the Fisherman's Bastion!
Slovakia — Take a boat ride to historic castle ruins, stroll through and have lunch on the streets of Old Town Bratislava, and climb the hillside to views of the city and a Soviet War Memorial.
Poland — Head south for hikes through the mountains to swimmable lakes, strolls through a lively Old Town full of drool-worthy treats, and step back in time at numerous world famous WWII history sites.
Spain — You can actually take a direct flight from Montenegro to Barcelona making this an ideal vacation, especially when you find a killer flight deal for $40! No brainer right? I have a feeling I only need to mention the word churros and you'll be booking your flight … but don't miss the artwork at places like the Picasso museum, Park Guell, and Gaudi designed architecture sprinkled all over the city.
Slovenia — Boat across the lake to medieval Bled castle, take the train through the underground network of caves, and hike through ravines and canyons.
Switzerland — Hike or take in views of the Swiss Alps by train, paddle board on Lake Geneva, and get your fill of chocolate.
France — Fulfill your childhood dreams by having a picnic in front of the Eiffel tower, spend an afternoon in the Louvre, and soak up the sun on the coast.
Living in Europe for your semester abroad give you time to travel, volunteer, explore, and soak up the culture with others in your volunteer group. There will be a handful of volunteers in Montenegro giving you built in travel buddies who want to experience all Europe has to offer with you.
You'll live in an apartment with your group members right in the heart of Budva, within walking distance to the charming Old Town that sits right on the shore, lined with beaches you can spend your afternoons at. Live like a local and enjoy traditional Eastern European dishes like meat and potatoes, pasta and salads, and our favorite treats (hello sugar + lemon coated pastries, chocolatey-nutty goodness: Bajadera, donuts served with honey and jam, and fresh pomegranate juice!).
Montenegro is a melting pot with many languages spoken and locals with roots from all over Europe. Montenegrin is the official language, and you'll have the chance to take some Russian language classes during your semester.
Spring Semester: Depart early to mid January — return home the end of April.
Summer Semester: Depart early May — return home mid August.
Fall Semester: Depart the middle to the end of August — return home the middle of December, just in time for Christmas.
You'll be making a difference by helping children learn English through our Exchange Program up to 20 hours per week. No experience is needed, we provide training on our teaching method!
$2,520 — Includes your roundtrip airfare to Montenegro, visa, housing, meals, language and culture classes, and training and support throughout the entire experience.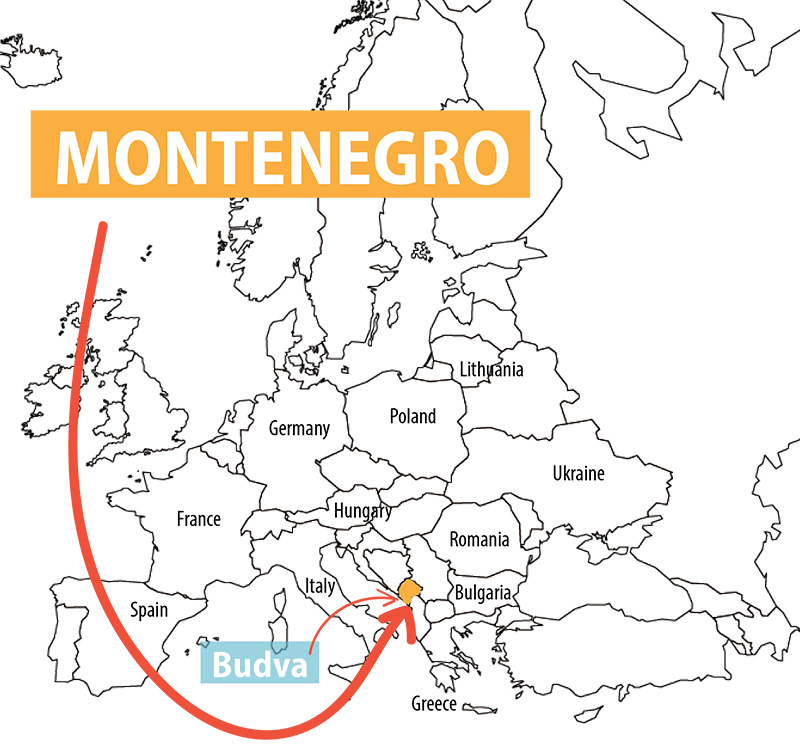 ILP volunteers live in Budva, once a fishing port town which has now become one of the most popular summer destinations for vacationers! There's a stone pathway you can walk on that takes you right on the coast (we're not exaggerating there — the ocean waves actually come crashing right up onto the path!), loads of popular coves for a day at the beach, or choose to wander the narrow alleyways and get lost in cobblestones streets of Old Town.